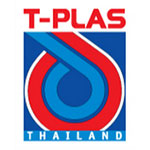 | | |
| --- | --- |
| T-plas | Attention:1 |
| | |
| Date:2018.07.21 - 2018.07.24 (Finished) | Web:http://www.tplas.com |
| Industry Sectors:Rubber & Plastic | Location:Bangkok Thailand |
| Hall:BITEC | Cycle:annually |
Basic Intro
Fair Organizer
China Exhibitors
History Data
Fair Introdution:
One of the most important plastics and rubber trade fairs in Thailand and the region Able to attract decision-makers and quality trade buyers from all over ASEAN Offering a comprehensive platform to locate new agents and distributors for your products A gateway that provides hands-on exposure to your product and live demonstrations A dedicated meeting place to look for prospective clients from a wide range of industries
Product Groups:
Machinery & Equipment for the Plastics & Rubber Industries Ancillary, measuring, control & test Extruders & extrusion lines Finishing, decorating, printing & marking Foam, reactive or reinforce resins Injection & blow moulding Moulds & dies Parts & components Preprocessing, recycling Presses Post processing Welding Raw Materials and Auxiliaries Additive Adhesive & glues Coating compounds Fillers Foams & intermediates
A look back at T-PLAS 2015...
243 international exhibitors from 31 countries

15% increase in exhibitor participation

96% of exhibitors indicated that Thailand is an important market for their business

4 national pavilions and country groups

Exhibitors from around the world, including Austria, Bangladesh, China, Egypt, France, Germany, Hong Kong, India, Indonesia, Iran, Israel, Italy, Japan, Malaysia, Netherlands, Pakistan, Philippines, Portugal, Russia, Singapore, South Africa, South Korea, Spain, Switzerland, Taiwan, Thailand, Tunisia, Turkey, United Kingdom, USA, Vietnam

7,345 quality visitors from 40 countries

25% increase in international visitors

94% of visitors are satisfied with the products and services on display

93% of visitors from management level

Visitors from around the world, including India, Indonesia, Malaysia, Singapore, Thailand, Vietnam, and many more
Join Now
You have already joined the interview.
Join Now
Joined successfully.
Join Now
Sorry only Buyer can join the exhibitions.
Interview Now
Sorry only Buyer can interview.
customer services